1st  with a magnificent score of 93 were a  mixed team from Queensbury, horsforth  and Woodhall headed up by Mrs Julie Lawman
2nd  with 91 were a Woodhall team headed up by Lady Captain
3rd with 85 was a mixed team from Bingley st Ives , and Woodhall headed up by Mrs Susan Morse
Weather ordered was perfect as was the Pimms served by our willing waiters mr John Hughes and Mr Elliot
Thank you to everyone who contributed to make it a successful day for Woodhall
Christine
Lady Captain
AMAM CharterSignatoryCertificate – WoodhallHills
WoodhallHillsGolfClub – EGletter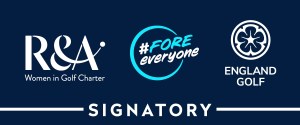 For the latest Winter Newsletter please go to the members area and follow the link……
instruction on how to download and register for club v1
Instructions for downloading V1 Members Hub
Coronavirus Guidelines for Playing Golf
PRIOR TO THE GAME:
All golfers going on the course must have a tee time booked.
We expect the course to be busy, so to allow the greens staff to have sufficient time to maintain the course the first tee time during the week will be 8.00 am, no golfers are allowed on before this time.
The start sheet has been adjusted to have ten-minute intervals.
Bookings can only be made one day in advance for the foreseeable future.
Play will be in two balls apart from household groups which may play in up to three balls.
Tee times will be booked online or if this is not possible via telephone to the shop.
Bookings for Saturdays will be done on a similar basis as to normal. Golfers must email, or phone in their intention to play and desired time before the preceding Friday morning, the draw will then be done on Friday and put on BRS.
Only the group due on the tee next may use the Putting green.
Only go to the tee five minutes before your tee time, once you have visited the shop, got your buggy / trolley ready etc if there is still some time left to your tee time please wait in your car.
Players with any colds or coughs or any symptoms of COVID19 must stay at home and not play.
The changing rooms will remain closed for the foreseeable future apart from for initial retrieval of clubs, shoes may be changed in the car park.
Single seat individual Golf buggies will be allowed but players must make sure they sanitise the handles of the storage shed doors before entering.
Club two seat Golf Buggies for hire will be available but only for single occupancy usage. The hirer must make sure they use the sanitiser provided to sanitise the parts of the buggy they are likely to touch.
Signage and safe distancing procedures will be in operation in the foyer and pro's shop areas.
Payments will be by contactless means or online wherever possible.
Practice Ground:
Play can only be from the bottom of the practice ground (covered bay end).
No more than four people on the practice ground at any one time.
Only the two end bays of the covered facility to be used.
All balls must be picked up with a Clikka tube or Clikka bag.
Limit your use of the practice ground to 40 minutes at any one time.
Maintain social distancing at all times.
Do not share clubs.
Remember to wash or sanitise your hands after practice.
The practice chipping green is open but only one person may use this area at any one time.
Practice Nets:
The practice nets will be open for use but with strict social distancing, please make sure you remove all your golf balls when you have finished.
Practice Putting Green:
The putting green will be open but without flags, this must only be used at any one time by the group due on the tee next and not for prolonged practice.
Lessons:
Only individual lessons will be available and can be taken on the practice ground but the pupil will unfortunately have to use their own balls and pick them up at the end of the
GOLFERS ON THE GOLF COURSE:
Only one person allowed on a tee at any one time.
Always maintain social distancing (at least 2 metres apart) on greens and throughout your round.
Leave the flag in the hole at all times and avoid touching it, the hole cup will be set in such a way as to stop your ball falling fully in to the hole, please carefully remove your golf ball from the hole without touching the flag or hole cup, use gloved hand where possible.
Rakes and any other pieces of course furniture that golfers may touch are out of use – the greenkeeping team will prepare the course, and where possible, re-rake bunkers during the day, golfers can wipe their own golf balls on a towel, please try and keep bunkers smooth by using the bottom of your foot to rake any bunker you visit.
Drinking fonts and ball cleaners are out of play.
Airlines for cleaning shoes following the round are closed.
Golfers should only pick up their own ball.
Do not share any equipment, such as golf clubs or rangefinders.
Do not shake hands before or after your game.
Use hand sanitisers where available.
AFTER THE GAME:
Please do not shake hands or exchange cards at the end of your round.
The clubhouse will remain closed so please leave directly after your round unless you need to visit the shop for any reason.
AS THINGS PROGRESS:
It may be that the shop is only allowed to be open to take bookings, manage the tee and look after buggy hire for the time being, we are still seeking clarity on this.
Once competition play commences again entries will be by text or email, with the draw done and put on BRS as normal.
Once competition play commences again players should sign in in the shop although they will not physically sign, the professional's staff will do this so sharing of pens is not required.
Shotgun starts with people congregating before and after will not be allowed for the time being.
No more than two customers allowed in the shop at any one time, please check through the shop window before entering the clubhouse.
Handling of scorecards is a vulnerability, especially for staff members tasked with checking cards and finalising results, as such when competitive play returns we will look at ways of returning scores by other means, possibly texting or emailing them in to the shop.
The score entry screen will be out of use and scores should be returned to the shop.
---