Welcome to Woodhall Hills Ladies Section 
 *****Limited Time Special Offer- Any membership 50% off!!*****
We are a small, friendly section ranging in age and backgrounds. Some of us have been members for many years and some of our members joined only a few years ago. We value all of our ladies and are proud of how we integrate new ladies into our section. Many of our ladies have made lifelong friends as a result of joining our club. Our main competition day is Tuesday and our ladies play at all times through the day. We also offer an alternative competition day on Sunday for those ladies unable to play on Tuesdays. 9 hole Stableford competitions are also included in our fixture list for those who prefer a shorter, quicker round of golf.
We have a wide range of 18 hole golf competitions for individuals, pairs (ladies and mixed) and 'fun' team events. Our main season starts at the end of March to the end of September, starting and ending with fun competitions and a social evening. We have organised trips, exchange days and friendly matches for those who are new to golf.
We encourage and promote competitive golf against other clubs. We compete in the Yorkshire County Ladies' Golf Association C Team League and the Weekend League for ladies members who work during the day. We also compete in the Bradford and District Ladies Evening League foursomes. In the winter we compete in the Bradford and District Winter Alliance foursomes.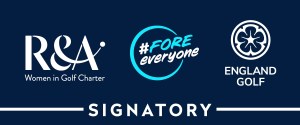 We are delighted to be part of the Women in Golf Charter 
To view our commitments to the Charter click on the link below.
Women in Golf Charter Commitments – Woodhall Hills
Our Charter Champion is Sarah Hutcheon, we look forward to working towards achieving the milestones and targets we have set ourselves as soon as we are able to get back to golf safely!
CharterSignatoryCertificate – WoodhallHills
WoodhallHillsGolfClub – EGletter